Hello!
Our fall season is coming to an end and the championship game will be a nail-biter! Wear your holiday best Tuesday to get in the spirit. Good luck to everyone!
The Cedar Rapids Curling Board wishes all our friends and families a very happy holiday season. We are thankful for our curling family and look forward to a wonderful 2023!
Winter league registration open
Registration for our winter league is open. Fall league was full three weeks before it started and we may not have the wiggle room to add extra teams like we did in the fall, so reserve your spot today!
Winter leage will be from 6:30 to 9 p.m. Tuesdays, Jan. 17 to March 21 (with two byes scheduled, bad weather make-up day of March 28).
League might be changes and byes dependent on registration numbers.
Curl in the great outdoors
Walker Homestead, a field-to-fork farm and winery on the outskirts of Iowa City, is installing a sheet of curling ice on their lovely covered patio. They will offer outdoor curling from 11 a.m. to 3 p.m. Sundays starting Jan. 8 to the end of February. Of course, this is all dependent on the ice freezing! The first hour or so will be for instruction and the rest of the time anyone can sign up to play pick-up games.
We will need volunteers! We're still working out some details but start planning your Sundays now! It should be a lot of fun. The event center will be open and serving food and drinks!
(Photo courtesy of Walker Homestead)
Sign up now to volunteer
There are a few upcoming opportunities to volunteer and help our club grow! Please help where you can; it really takes a village to make this all happen.
Tuesday, Jan. 10: 6:30 to 8:30 p.m.: Learn to Curl
Tuesday, April 4: 6:30 to 8:30 p.m.: Learn to Curl
(You must be logged in to see this page and register.)
Do your holiday shopping and earn money for CRC
Did you know that Amazon donates 0.5% of all eligible AmazonSmile purchases to nonprofits of their choice, including Cedar Rapids Curling? It's easy!
If you are using a web browser, go to smile.amazon.com and sign in with the account you use for Amazon. Select your nonprofit and start shopping!
If you are using the Amazon app, go to the main menu, select "Settings" and then "AmazonSmile." Select your nonprofit and follow the on-screen instructions to turn ON AmazonSmile. Once AmazonSmile has been activated, all future eligible app purchases will generate a donations for your nonprofit.
Happy shopping!
Represent Cedar Rapids Curling at a national event
As you know, a women's team from Cedar Rapids Curling in November represented CRC and the Midwest Curling Association at the National Arena Curling Championships in Eveleth, Minn. These events are great ways to get a national championship experience and meet curlers from across the country.
There are four opportunities for Cedar Rapids Curling members to play in a national event: Club National Championships, Mixed National Championships, Arena National Championships, and 5-and-Under National Championships.
The MCA will host playdowns to choose the teams that will represent them. Dates have been set for three playdowns (Feb. 3-5 for Club Nationals; March 10-12 for Mixed Nationals; May 13-14 for Arena Nationals). We expect dates for 5-and-under to be announced later in the spring.
If you are interested in playing in any of these playdowns, start talking to fellow members about putting together a team and perhaps signing up to play together in winter league in order to practice together.
FREE bonspiel for 5-and-unders
The Midwest Curling Association hosts several bonspiels throughout the year that are FREE for Cedar Rapids Curling members. These are great opportunities to play on dedicated ice.
The MCA 5-and-under bonspiel will be March 18-19 at Exmoor Country Club in Chicago. This event is open to curlers who have played less than five full seasons. The 2020-2021 season is considered a freebie, so curlers who started in Fall 2017 or later are eligible.
If you're looking for team members, throw a thread on the Cedar Rapids CC Virtual Warm Room Facebook group page or chat with people at league!
Cedar Rapids Curling on the road
It's that time of year that curlers hit the road, and Cedar Rapids Curling members are busy! We like to brag about our members, so please send team photos to This email address is being protected from spambots. You need JavaScript enabled to view it..
Congratulations to Cedar Rapids Curling member Phil Engen for winning the A event Dec. 2-4 at the Owatonna Grain Belt Bonspiel with Dan, Michelle, and Chris from the Capital Curling Club in Bismarck, N.D.!
Beth Hinson, Dori Hinson, and Addie Tamboli played in the Blackhawk Curling Club's Ladies First Chance Bonspiel in November.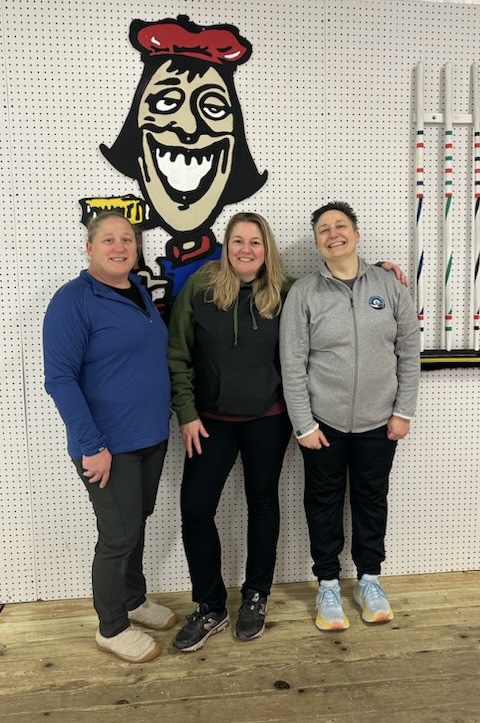 Two teams played Dec. 10-11 at the Pardeeville Curling Club's Mixed Doubles on the Rocks. Emily Nelson and Cale Tesch won third and Lynn Benkusky and Bryan Coster took fourth.
Stephen Spence, Parker Abbott, Noah Armstrong, and Dalton Schindler played Dec. 9-11 in the Blackhawk Curling Club's Festivus Bonspiel.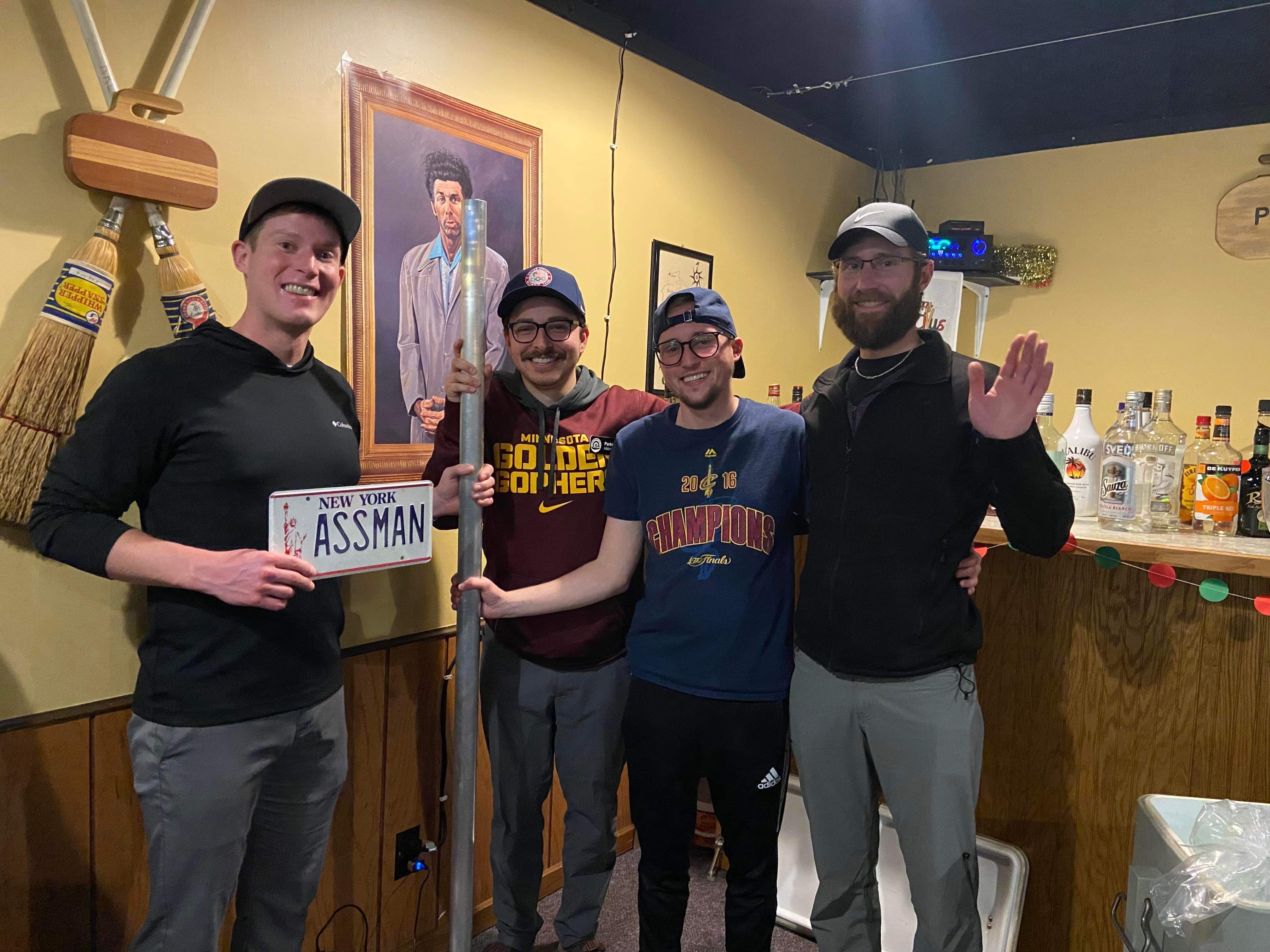 Helen Bryce, Dori Hinson, Beth Hinson, Kari Kozak, and Jimmie Ring played in Dec. 10 in the USWCA All-American at Waltham.